Home of the Burger genetics, Skunk House Genetics bred Han Solo Burger by crossing GMO Cookies and Larry OG. Offering a savory, funky, and spicy terpene profile, this strain not only tastes delicious but also looks beautiful with green and purple hues alongside gigantic stinky trichomes. Its potent high will tame any inability to relax.
About Han Solo Burger
The Han Solo Burger strain has one of those out-there names that makes you cringe or giggle, depending on your mood. Like Harrison Ford himself, this strain has a savory flavor, though in the case of the plants it's due to a terpene list that includes funky and spicy notes. And true to its namesake, it's also beautiful, though the Han Solo Burger strain accomplishes it not with a debonair smile but a mix of green and vibrant purple coloring.
The intense high of the Han Solo Burger strain comes from its lineage, as a cross between the GMO Cookies and Larry OG strains. This gives it a Sativa-dominant composition of (70/30).
This strain is in high demand due to several factors. The first factor is its grow structure. It grows in a sturdy formation and looks the part too, with dense, smelly nugs that flash bright green beneath thick orange hairs. The trichomes are crystal white but thick and clump together.
The main reason people seek out Han Solo Burger though is the high – it'll send you to hyperspeed in no time, with a THC content at around 29% on average. When it burns, Han Solo Burger releases a pungent herbal smell, with hints of spicy wood and pine. It's incredibly manly and outdoorsy, a real clotted earth and winter woodsy smell. The high hangs around your head for a while before really kicking in.
That high THC content takes its toll as you're finishing your toke, moving sensations out of your head and down through your body. The effect is calming, pulsing, and tingly. Han Solo Burger's full-body high warms you up, lifts you, and leaves you completely at ease and relaxed. That high is the reason people with chronic stress and anxiety seek out Han Solo Burger for the kind of tranquility only a sexy bounty hunter can offer a weary traveler. Depression, spasticity, PTSD: these are the burdens that Han Solo Burger has become famous for lifting. A true full-body high isn't easy to come by and this one is one of the more relaxing and uplifting out there.
Knowing that the THC content is high and the high itself is pretty intense, Han Solo Burger is a better pick for advanced users, those who want medical relief from mental stress or who use it for daily recreation. The heaviness of the high and the multiple full-body effects may be too much for novices. But if you're up to the challenge, the Han Solo Burger strain will give you the kick you're looking for. Its namesake may not be a Jedi, but the force is still strong with the high he'll give you.
Sativa Dominant Hybrid – 70% Sativa / 30% Indica
THC: 26% – 31%
Han Solo Burger is a sativa dominant hybrid strain created through crossing the powerful GMO Cookies X Larry OG strains. Weird name aside, Han Solo Burger is actually one of the most highly sought-after sativas on the market, with a sturdy grow structure and super lifting high. This bud has super dense heart-shaped bright neon green nugs with thick burnt orange hairs and a coating of chunky frosty white crystal trichomes. As you pull apart each sticky little nugget, aromas of pungent herbs and spicy woods are released, intensifying as the nugs are burned away. The flavor follows the same profile, with a sweet yet spicy pine overtone that's accented by rich fresh earth. The Han Solo Burger settles in soon after your final toke, starting first in the head before spreading throughout the rest of the body in calming, warming waves. You'll feel totally at ease in this state, fading in and out of focus as an expansive sense of tranquility settles into your very bones. In combination with its super high 26-31% average THC level, these effects make Han Solo Burger perfect for treating those suffering from conditions such as chronic stress or anxiety, PTSD, depression and spasticity.
First Impressions
Walking into the Hollywood High Grade dispensary, Joey is immediately pointed in the direction of the Han Solo Burger 1G Pre-roll. The joint comes housed in a sleek, black case with gold embellishments. The Indica joint is made up of 29.51% THC and 35.01% active cannabinoids. In other words, this is one potent strain.
One-Hit Review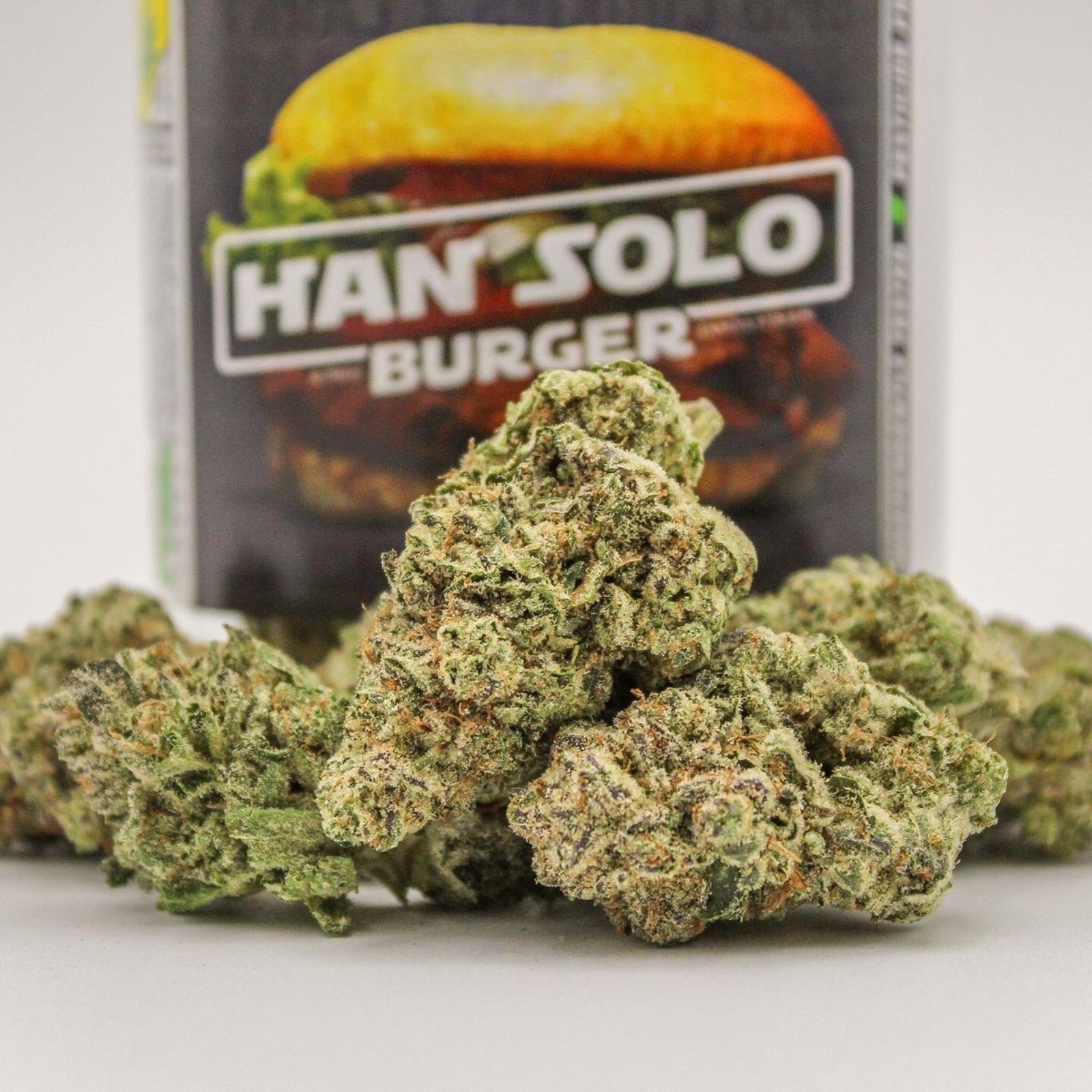 Joey's first hit of the Han Solo Burger has a delicious flavor. Tastes of earthy pine and a powerful gas shine through. Through the rest of the burn, the flavors come out more and more.
The high from the High Grade Farms strain can be felt immediately. First, the terpenes in the flower send a burning sensation through Joey's nostrils. Next, he felt the high rush through his entire body until he felt it in his fingers and toes. The high wraps around the head as well, creating a pleasant heaviness in the back of the eyes and head. 
1. different comments from different bud tenders. One said the taste was great. The other said it was all nutes and they didn't flush the plant properly before harvesting which results in harsher rips from a bong.
2. My Lady advised, not a fan of this flavor. . So I had two people telling me two different things at the club; shoulda went with the gut and skipped the strain tbh.
3. Off the nose, they smell like a little jack vibe. Musky metal [email protected] clean room/chemical hits.
4. Smoke was def harsh. It leaves almost like a film on the back of the tongue, switching between cold berry seeds.
5. Head change was felt roughy 4-5 mins in, with heavy body sedation.
6. 30 mins later Stoney for sure
7. Another bowl lady said doesn't taste like weed; some other herb.
8. After some googling, that nutrition taste is not uncommon for indoor grows that don't flush all the way through. I know the effort that goes into getting me this jar filled with weed, so some grower insight would be appreciated esp since the taste is a lil weird. To conclude, I'd be hard pressed to not finish a jar that was $60 pre tax but it really was not pleasant at all. I'm forcing myself to pack bowls for myself cuz the lady refuses to smoke this.
Jayping's overall experience with this strain led him to qualify the Han Solo Burger as a high-level product, resulting in a score of 9.25 out of 10. Room for improvement lies in more information on genetics and the terpene profile of the plant. However, this is a strain perfect for anyone in need of a quality craft cannabis experience.