Raindance by Greenpoint Seeds is a vigorous cannabis variety with quick vegetative growth and a generous yield. A cross of Deadhead OG x (Chemdawg 4 x Chemdawg BX), this strain is a quick and vigorous take on the OG and Chemdawg genetic lines, with strong emphasis on chemical aromas. Consumers should also detect a pungent, skunky aroma dominated by tart lemons, pine needles, and diesel fumes. Raindance is primarily indica-dominant, but also offers pleasant cerebral effects. It can be utilized for midday pain, anxiety, depression, and general decompression after a long day. This is a must for OG and Chem lovers!
Raindance cannabis strain is a 70/30 Indica dominant hybrid with a moderate THC average of 14%. It smells of freshly picked flowers with chemical blueberries and heavy diesel. The flavour is more blueberry lemonade with notes of pine. Buds are fluffy and pale green with the occasional long hair. Raindance can treat spasms, pain, anxiety, depression, and stress. It is ideal for evening usage.
About Raindance
Celebrity genetics have created one powerhouse of a strain in Raindance, as an initial cross between Chemdawg 4 and Chemdawg BX was then bred with Deadhead OG. The team at Greenpoint Seeds is responsible for this beautiful bud and is loved by both users and growers alike.
Raindance is a super consistent strain that clocks in at 14% THC almost every single time. Her nugs are poster children for the cannabis world with a fluffy and light silhouette that's blanketed with frosty trichomes and accented by long pistils. Unlike many other strains, her flavors and aromas tend to differ quite a bit. You'll notice a mixture of blueberry, diesel, and flowers as the nugs are broken up and smoked while pine, lemon, and spicy blueberry dance along your tastebuds.
Depending on the activities you have planned, Raindance might actually be a great strain for any time of the day. She brings an ideal blend of enthusiasm and relaxation that can manifest itself in various ways. No matter what, she'll offer massive amounts of euphoria to your life with a cerebral kick that's unlike any other. Happiness won't leave you as you continue to soar along your high, yet eventually a slight bit of sedation will set in that keeps you grounded without being overly heavy.
This magical combination of up and down effects is what makes medical users often look to Raindance when they're in need of relief. Mental woes including anxiety and depression quickly fade into the background and infuse your mind with a plethora of positive thoughts. General bodily pain is also soothed, particularly migraines, and offers enough energy to get over any physical hurdles that might be in your way. If you're rather sensitive to cannabis, smoking a fair amount of Raindance may result in kicking insomnia to the curb.
Seeds of this strain are readily available from Greenpoint Seeds and can be planted inside or outdoors with ease. Perhaps the most difficult part of cultivating this strain at home is the patience that's required, as it takes between 10 and 11 weeks for her to fully mature. However, Raindance is a moderately easy plant to take care of and is an ideal option for those who are newer to home gardening.
By all accounts, Raindance is pretty much perfect for all users and home growers, so it's no wonder that she's often in high demand. Make sure to experiment with your dose as well as the time of day you indulge, as you might be able to achieve various types of effects from the same strain.
Indica Dominant Hybrid – 70% Indica / 30% Sativa
THC: 14%
Raindance is an indica dominant hybrid strain created through a three way cross of Deadhead OG X (Chemdawg 4 X Chemdawg BX). This bud brings on the perfect active cerebral state and pairs it with a heavy body buzz for a long-lasting high that is one for the ages. The Raindance high is very active and lifted in nature, making it perfect for those days where you want to relax yet still be up and on your feet. You'll feel an influx of happy energy a few minutes after your last toke, inspiring you to get up and moving. This effect is accompanied by a euphoric cerebral state that leaves you unfocused and pretty giggly at times. With these effects and its moderately high THC level, Raindance is often chosen to treat conditions such as chronic pain, depression, muscle spasms, and chronic stress or anxiety. This bud has fluffy light green nugs with sparse long thin orange hairs and a thick frosty blanket of tiny white crystal trichomes. As you break apart each sticky little nugget, aromas of fresh florals and chemical blueberries are released with hints of heavy pungent diesel as the nugs are burned. The flavor is of fresh lemons and pine with hits of spicy blueberries as you exhale.
Grow information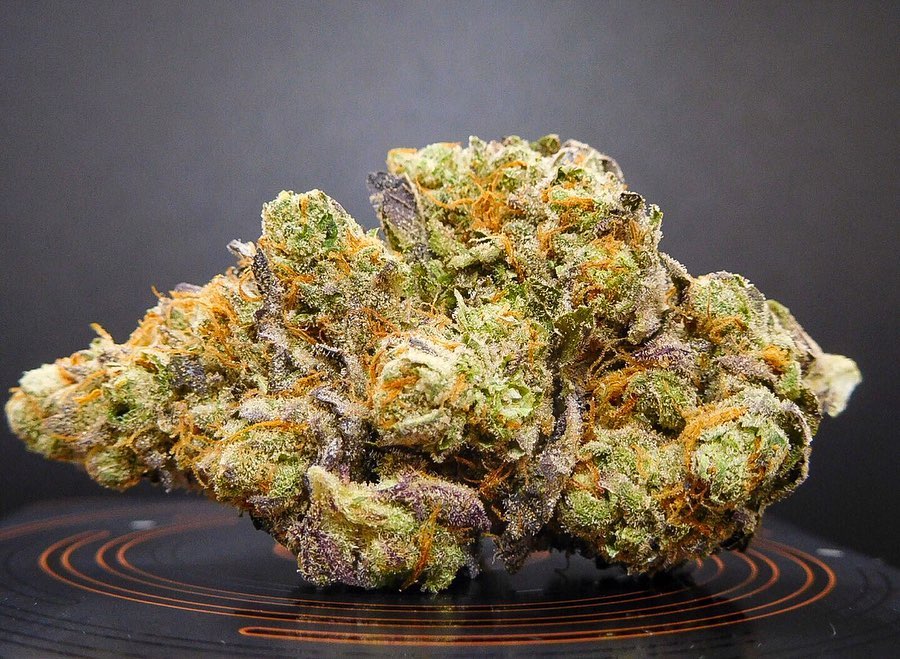 Raindance is an indica-dominant hybrid with relatively long flowering times. The strain thrives in both indoor and outdoor settings, making it a good selection for novice cultivators. Raindance reaches maturity in 70 to 77 days indoors and in late October outside.
Raindance is unavailable as seeds or clones.
Effects
Raindance marijuana induces relaxed, happy, sleepy, hungry, and creative feeling. It may also also help relieve the following medical symptoms: depression, pain, stress, insomnia, and headaches. You may have dizzy, dry mouth, dry eyes, and as side effects.
Please note that the effects vary from person to person, but based on our data and data from websites such as Leafly and Hytyiva below are the most consistent effects among users.
May Help Relieve
Because of its wide variety of effects, Raindance weed is suitable for assisting with a number of medical ailments, conditions, and symptoms. Overall, Raindance is considered most suitable for helping with those who are suffering from depression, pain, and stress.
Side Effects
Unsurprisingly, the most common side effects that have been reported from Raindance marijuana include dizzy, dry mouth, and dry eyes. If you are experiencing these effects, be sure to stay hydrated and drink plenty of fluids.